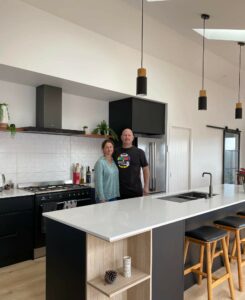 Meet Nev and Lisa,
They both engaged Darrin's services to explore the options for high LVR borrowing to build a house. Fortunately, due to the Reserve Bank exemptions for new builds, they were able to obtain a pre-approval to build their home.
Their property journey began on the 5/5/2020 and ended when they received code of compliance on the 1/12/2021, so like a fine wine it took time – but by design it was a great outcome.
Like any build, the road to meet bank approval conditions can be rocky to navigate along with the general stress of building a house.
However, they kept their eye on the end goal which resulted in the well-managed project being completed with a property valuation that exceeded their expectations. This enabled them to request to have the low equity margin removed from their interest rate,, as they had more than 20% equity in their home.
So regardless of the stricter criteria to meet for high LVR borrowing, it paid off. The capital gain between the cost of the project and the end market valuation worked in their favour.
Congratulations for taking that leap of faith to build your first house and thanks for the opportunity to assist you.